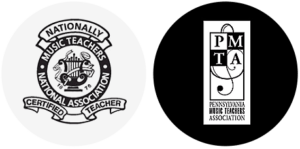 Cheryl Goresko Woodford, NCTM
Piano is the joy of my life. I love to play and teach, and feel fortunate to share the gift of music with students of any age. I have enjoyed living in Willow Grove since 1984. This is a lovely quiet neighborhood, easy to get to, with plenty of available parking. Here are some highlights of my musical journey:
Celebrating 30 years of piano teaching in 2023
Achieved the status of 'Permanent Professional Certified Teacher of Music in Piano' in 2009
Served as President of my local music teachers chapter for two terms from 2001 to 2005
Received National Certification from the Music Teachers National Association in 1999
Studied for several years with concert artists Sheila Paige and Alex Ramirez, experts in teaching proper technique and the joy of playing piano. I still take lessons to improve my playing and teaching skills!
Continuously participate in educational programs and workshops through the Music Teachers National Association and The Golandsky Institute
Opened Hands Together Piano Studio in 1993
Earned a Bachelor of Arts degree in Music from the University of Pittsburgh, and took graduate music courses at Temple University
All after I started piano lessons at age 6 with the neighborhood teacher. I still enjoy taking piano lessons today!
I am a dedicated, gifted teacher, happily teaching piano for close to 30 years from my home studio in Willow Grove.
 I am permanently accredited as a Nationally Certified Teacher of Music, and still enjoy taking lessons myself to keep improving my playing and teaching. I specialize in teaching classical piano, with an emphasis on reading music easily, knowing chords and music theory, and learning to play piano beautifully with great technique. My style is down to earth, flexible and challenging. I want students to enjoy lessons and the songs they are learning, so they will stick with piano and have all the benefits that playing piano brings. The greatest feeling is when my students leave their lessons smiling!

"My son has been with Cheryl for over two years and watching him progress is really amazing. He is reading music, creating his own work and showing a new self confidence that is wonderful. Cheryl is patient, yet doesn't let my son settle for not doing his best, which is very important. You feel that with every lesson comes new knowledge, which is great. I love that she instills in her students that music isn't easy - you must work hard. However, the rewards are well worth it."
Vanessa Wilkinson, Horsham
"I have been taking lessons with Cheryl for over a year and absolutely love it. I have taken lessons in the past at other places and have come to find that Hands Together is the best avenue for me. Cheryl is patient, accommodating to my schedule (I am an adult student) and a great teacher. It's been a great experience for me and I would recommend Hands Together and Cheryl to anyone who is looking to learn how to play the piano at any age."
- Tina Marie Boschetti, Philadelphia
"I have been taking lessons with Cheryl for almost ten years. She taught me not only how to play the piano beautifully, but I have become a better musician because of everything else I have learned. It has helped me to easily pick up other instruments and play. Even now at a higher level she is showing me how to improve and that I have much more to learn. I would recommend her extremely highly for any age or any ability level."
- Dana Kluchinski, Glenside
"Thank you for bringing the light and love of music to Savera's heart. She is always smiling when she comes from seeing you. What a gift!"
- Shumaila Khan, Doylestown